How a Cub Scout Pack Works
A Cub Scout Pack is made up of three organizational levels. Over the entire Pack is the committee which is responsible for the behind the scenes work to make the Pack operate smoothly. The Pack itself is made up of a group of Dens and coordinates meetings and activities which Scouts of all ages participate in. Dens made up of Scouts which are the same age or same grade and coordinate the adventures and activities targeted towards that group of Scouts.
The table below provides more details on how each level of a Cub Scout Pack works and is responsible for.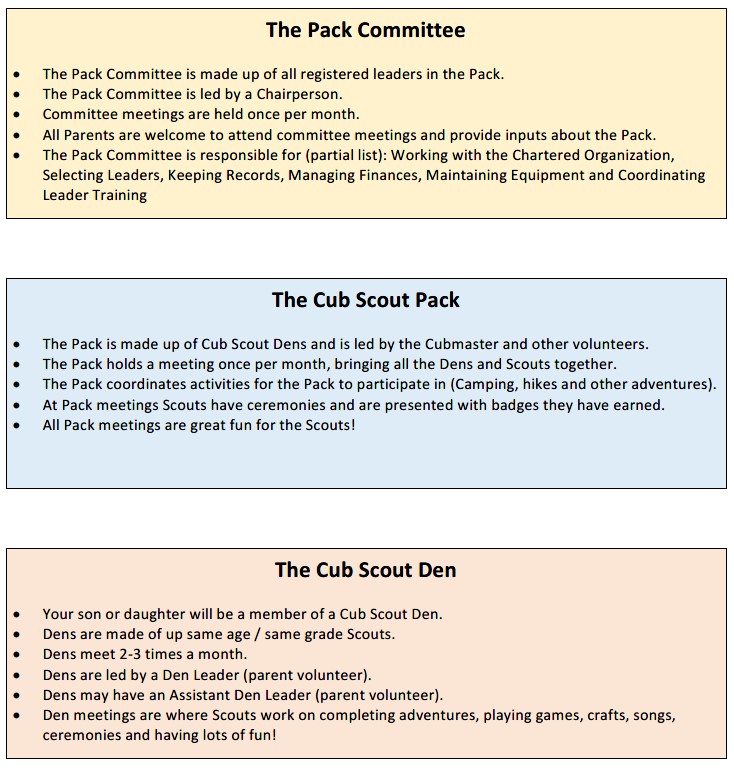 Scouting Beyond the Pack
Scouting is a broad movement across the United States and has many levels outside of just the Pack, Troop or other unit your Scout is part of. While there are many layers to each of these organizations it is helpful to understand a few levels of this in order to navigate the world of Scouting. From the BSA down to the Chartered organization that sponsors Pack 178, the tables below provide insight into the workings of Scouting outside of the Pack.
More about Scouting
Pack 178 would like to provide you with any information you would like to know about the Pack or Scouting in general. If you have any questions regarding Scouting please send us an email at [email protected] and we will be happy to answer them.
While we cannot cover every aspect of Scouting here; we have included some commonly asked topics from families looking to have their son or daughter join the Scouting program:
Rank and Advancement
Scouts can join the Cub Scout program at any time, the program does not require Scouts to complete adventures and ranks from earlier grades to become a member of a Den for their grade, in fact the BSA does not permit working "backwards". Scouts join the program and dive right into the fun adventures along with their friends.
Each grade level in Scouting is defined by a rank, with each rank having different requirements to complete and earn their rank. Starting from the Lion (Kindergarten) through Arrow of Light (5th Grade) each rank provides age appropriate adventures to teach Scouts skills and lessons that help them apply the Scout Oath and Law throughout their lives. A Scout does not need to complete the requirement of a rank to move onto the next year of Scouting, they move up as they transition to the next grade in School.
For more information on Cub Scout Ranks, please see our page outlining the Cub Scout Program.
While Pack 178 and our Dens provide activities which work towards completion of advancement requirements, the responsibility of advancement in Cub Scouting lies with the family and Scout and not on the Den or Pack. Some adventures will need to be completed at home with the family and the program is designed to be flexible so if a Scout misses meetings they are able to work at home to complete any requirements they missed.
What Will Scouting Cost Me?
There are several cost to Scouting, these can vary over time and to get the latest information please contact us at [email protected]
An important aspect of Scouting is that the different levels of Scouting are independent financially. The BSA, Council and Pack levels operate on independent budgets and through independent financing sources
The cost ranges listed below are generic for Scouting and do many not represent current Pack 178 Fees and Dues structures, contact the Pack for latest Dues and Fees information.
Remember that the cost below are associated with a full year of Scouting (12 months), often a bargain compared to other youth activity costs.

Mandatory Dues and Fees:
The total cost of Scouting includes National BSA Dues, Council Fees and Pack Dues and is typically $180-280 for a year, however this can vary depending on the Council and Pack and specific program offered. These cost can often be reduced by participating in Fundraising.
A new Scout joining the BSA also has a $25 one time registration fee.
When you register the BSA will charge you for national and council dues / fees; these are paid on an annual basis by the family directly to the BSA. Pack dues are paid by the family Pack 178 with Pack dues being prorated based on when your child joins during the Scouting year. This does mean that you will be making two payments when you join Scouting, one to the BSA and one to the Pack.
What is included with my Pack Dues?:
Pack dues include: 2 Tee-shirts (1 child & 1 Adult), all Scout awards for the year, pinewood derby car kit, rocket engines for rocket launch, general Pack and Den meetings and much more.
Cost of optional items:
Uniforms (recommended, but not required) – typically $100-150 (can also be sources second hand for reduced cost)
Subscription to Boys Life Magazine – $15/year
Camp participation Fees – Varies by camp program